Meet Jolie Su
Lisbon, Portugal
One of my most favorite things to do when I travel is to find spots that are off the beaten path or only known by locals.  Whether it be a home that is converted into a local concept store, like Casa Ciutta in Bogotà, to a museum-like Min Agostini's showroom in Buenos Aires, to one of our favorite cichetti spots in Venice that we have visited for 20 years - yet always seem to have a hard time finding again.  It is at a place like this that I first met Alexandra Jolie Su, a fashion designer from Turon, Poland living in Lisbon. 
Alex invited me, through the guru of style, Sophie Lloyd, to come and see her line of hats in a beautiful old building in a section of Lisbon I had never been. A charming tiled facade met us and we climbed the well preserved old staircase to a room with gorgeous antique fixtures and a lovely farm table covered in an array of fabulous wool hats. Alex with her chic curls, warm smile and perfect English met us to show us her headwear designs that she created with an established milliner in her home city in Poland.
Alex attended fashion school in Lisbon and had alway planned to create her own brand. She explained that when she was growing up in Turon that there were 13 hat makers in her town. There was such a demand for hats that none of them were competition for each other. When we met in 2018 there was only one left. Alex was determined not to let this craft, that was so essential to her mother and grandmother, die. She went to the matriarch of the company and asked to learn the millinery art.
The result of this collaboration is what Alex showed me on that June day in Lisbon. The 13.1 Collection, the first of the Jolie Su Dream Hats designs entirely created in MODENA - the small millinery studio established in 1947 in the city of Torun where Jolie Su spent time learning how to make magical headgear. The Jolie Su X Modena collection is an assortment of beautiful colors and styles made from the highest quality wool in all of Europe. The fashion forward styles are trimmed with a silver " J" and high quality vintage ribbons from Lisbon's most iconic haberdashery store located on Rua da Conceição.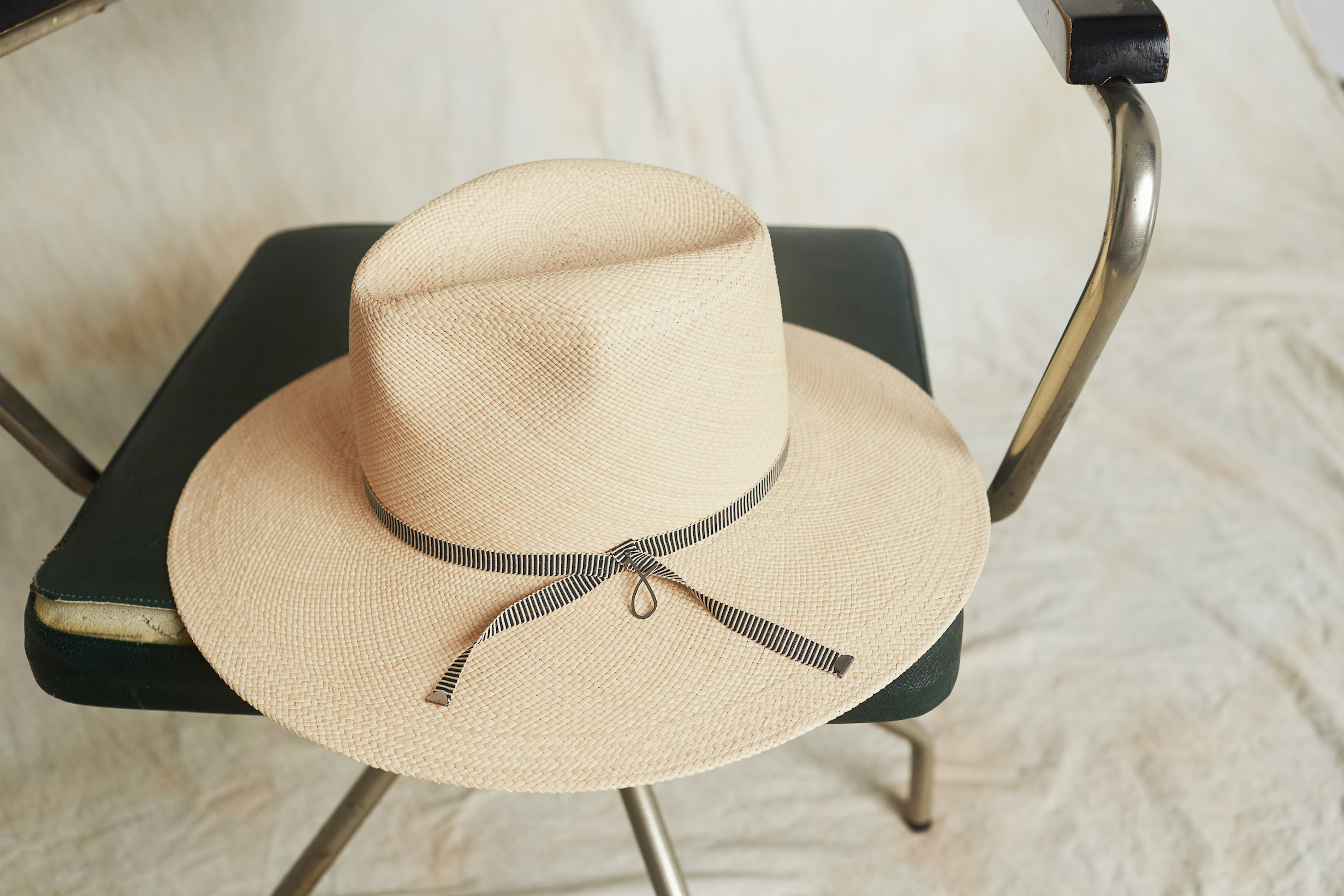 Jolie Su's Rivea Straw Hat Collection is equally thrilling. Again, Alex sought the highest quality straw available in Europe. The Rivea Collection is an exquisite collection handmade of toquilla straw, a high-end material hand woven in Ecuador according to traditional techniques recognized by UNESCO as Intangible Cultural Heritage of Humanity. In accordance with Jolie Su values, the material is sourced from the local community. She found the importers in Spain and went to spend a week with them to observe their millinery skills and introduced her designs. The result is a collection of classic styles that work both at the Resort and around town.
Over a bottle of wine, in the little hidden bar upstairs from where she displayed her hats for us that first evening, I asked Alex what her inspiration was for her brand, she said, "the Jolie Su brand has turned a heritage craft into wearable, playful and sustainable art. The hats are dreamt up between Warsaw and Lisbon, as a showcase of playful abstractions, vivacious memories and spontaneous homages. Creating meaningful headgear for the contemporary dreamer who seeks unique, beautiful objects and who is courageous enough to be a little different. Every hat is imagined as a beautiful expression of individuality with meticulous attention to detail and quality. Artfully handmade with love and a touch of rebellious femininity."