I first came across STATEMENT jewelry in Paris when I visited their beautiful shop with my new friend, Syra Shenk, a fabulous fashion insider who knows all of the best brands in Paris. When I told Syra I was interested in "Approachable Fine Jewelry", she said she had the perfect brand in mind. Upon entering the chic boutique on rue du 29 juillet, I was sold. The gorgeous Art Deco style, clearly of such fine craftsmanship, was like nothing I had seen before, all in one place. Syra referred to it as "Approachable Bling". And with the abundance of diamonds and the polished shine of the rhodium-coated silver, I can see why.

Amelie Huynh started STATEMENT after a long and successful career in business for one simple reason - she has always been passionate about jewelry. When I asked Amelie why she chose to design jewelry, she said, "I will give a very honest and a rather candid response: because I truly, passionately love it. It's been an addiction since my early age. I've browsed flea markets, read numerous books, worked for other jewelry brands including a very famous Maison of the Place Vendôme. What can I say? I love shiny things! See? I said it, candid! Which is a wonderful thing in my opinion. I want to be able to do my work with the sincerity of a child."

"I want to be able to do my work with the sincerity of a child."
Due to the high price of gold, I had been looking for a fine jewelry line that was still affordable, yet still of the highest quality. Discovering STATEMENT was such a win for Lesetta entering the fine jewelry space. I asked Amelie why she chose to predominantly use silver, as opposed to gold. She explained, "I wanted to prove to myself that silver, once revered but almost disregarded in modern jewelry as gold took over, had a place still and that this place is not below gold, it's on the same level. Buying a diamond pavéed piece of jewelry set in silver takes some conviction, a certain courage to go against the usual, the convenient. So does creating this jewelry. STATEMENT started with a statement: silver is as precious as gold and can be and deserves to be worked in the same way." Her philosophy of creating a line that allows one to express their true selves is truly enhanced by her use of silver.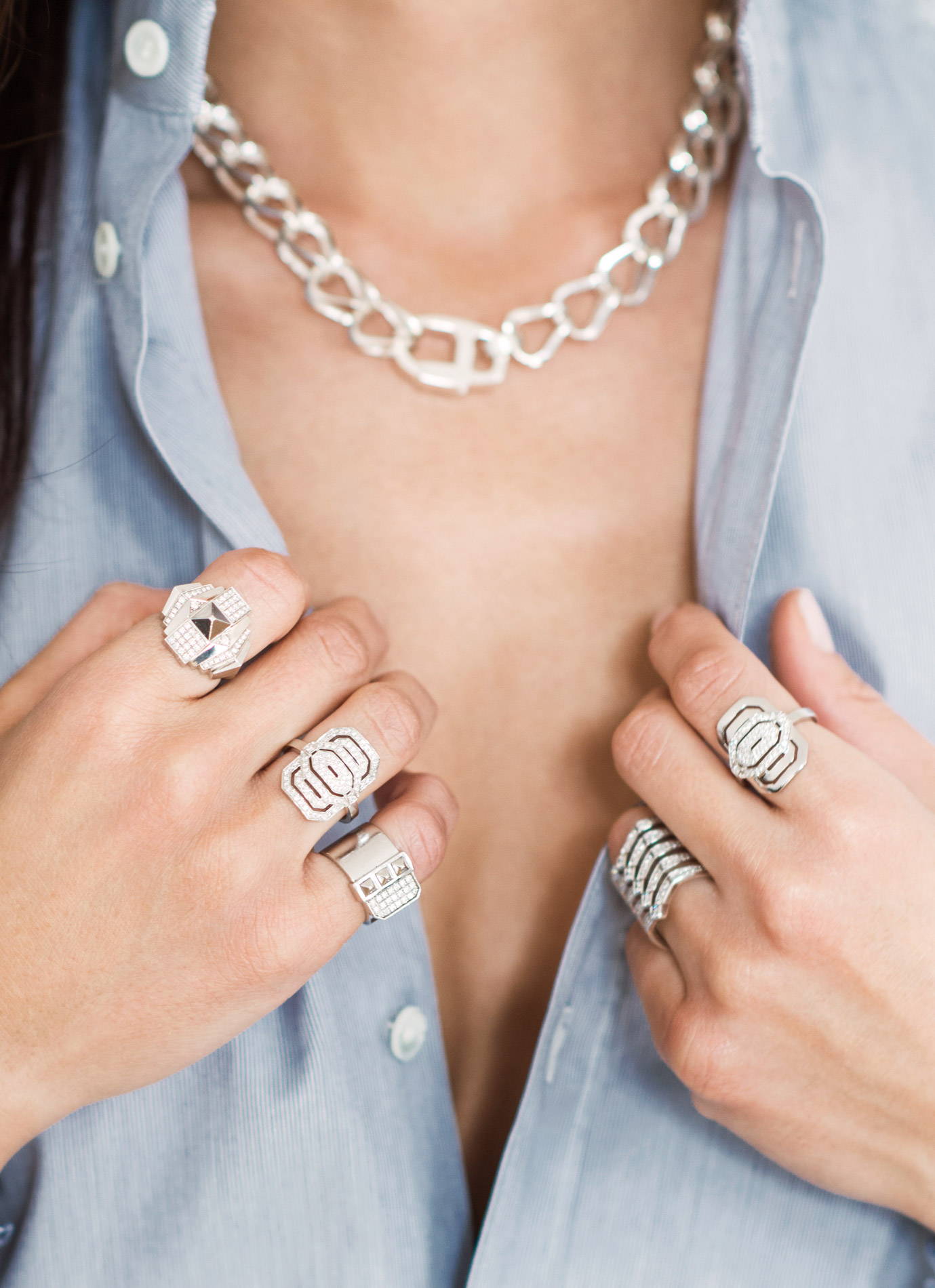 Of course, I wanted to know Amelie's attraction to Art Deco design. She said, "I've always been attracted to the Art Deco movement, but not the curvy and flowery one, I have a passion for more geometric shapes, I like straight lines and sharp angles, that "other" current in Art Deco. Mixed with the brutalist aesthetics... plus the metal I prefer, silver, with all of its symbolism and deep signification, connected to the moon and therefore to womanhood, the dual nature, light and shadow..."

"I've always been attracted to the Art Deco movement..."
I could not be more thrilled to offer STATEMENT. The thoughtful detail, unique design aesthetic and the use of diamonds, precious and semi-precious stones, and the use of the highly polished silver makes the "Approachable Bling" line of jewelry the perfect fit for the self-aware, truly stylish women of the Lesetta community.